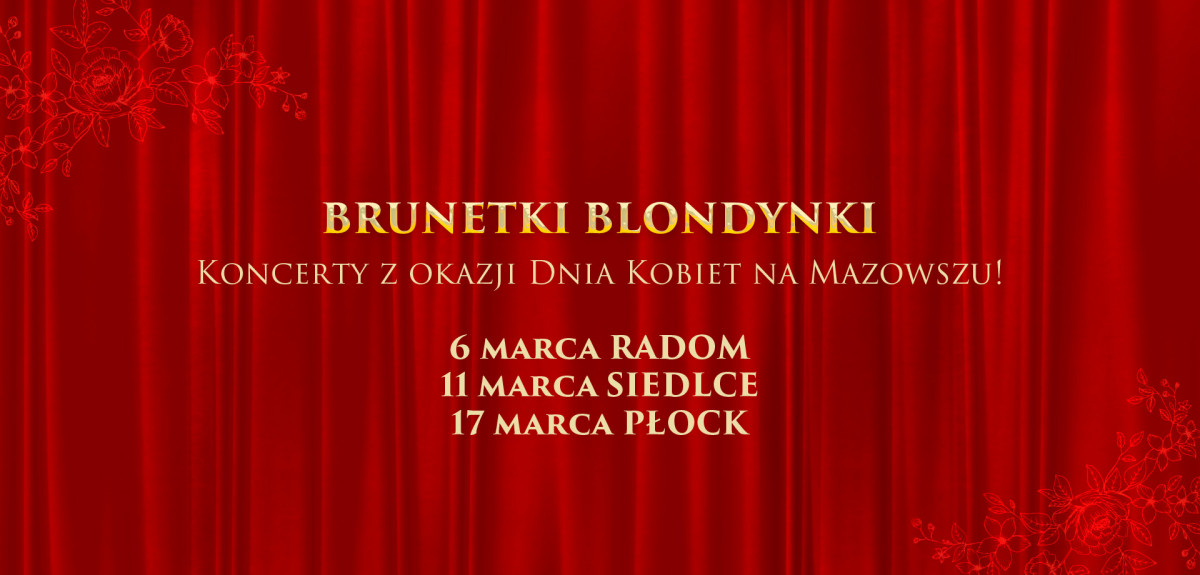 BRUNETTES, BLONDS– series of concerts in the mazovian region on the occasion of women's day
We are pleased to inform you that the Mazovian Musical Theatre returns with its offer to Mazovian Region. On the occasion of Women's Day we cross the borders of Warsaw and will perform in Radom, Siedlce and in Płock.
We invite you to an extraordinary tour – a program dedicated to all the ladies – "Brunettes, Blondes " under the auspices of Marshall of the Mazovian Voivodeship – Adam Struzik.
The concerts of "three tenors" are known all over the world. However, we offer you so far unknown configuration. We will present the premiere project with the participation of tenor, baritone and bass – all of that to the piano accompaniment. You will hear a lot of hits from the entire, male vocal literature, including "Ten zegar stary", "Gdybym był bogaczem", "O sole mio", "Wielka sława to żart", or "Wy mnie pisali" ( Onegin's aria ). During the concerts, the following ensemble of young vocal scene will perform: Emil Ławecki (tenor) – i.a. a winner of the 2nd Tenor Battle for Roses (TVP), Jakub Milewski (baritone) – a soloist at the Philharmonic in Warsaw, and also Artistic Director Chamber Orchestra from Ostrołęka and Michał Dembiński (bass) – he cooperates as a soloist with the Polish Radio Choir in Cracow. A preeminent pianist – semi-finalist and a winner of a special award at the 15th Chopin International Piano Competition – Krzysztof Trzaskowski. The instrumental passages will present one of the few virtuoso of the bandoneon in Poland – Grzegorz Bożewicz. A series of concerts will be hosted by well-known television and radio presenter Ryszard Rembiszewski.
"Brunettes, Blondes" concerts in the Mazovian Region:
6 March, 7 p.m. RADOM – Zespół Szkół Muzycznych im. Oskara Kolberga – Concert Hall, Czerwiec 70 Street 25
11 March, 6 p.m. SIEDLCE – Miejski Ośrodek Kultury – Sala Widowiskowa PODLASIE, Sienkiewicz Street 63
17 March, 7 p.m. PŁOCK – Teatr Dramatyczny im. Jerzego Szaniawskiego – Scena Duża, Nowy Rynek Street 11